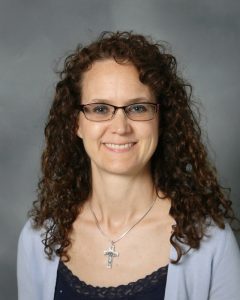 Mrs. Brender joined the staff at Christ the King Catholic School in 2015.  She has her undergraduate degree in Theology from Creighton, and advanced courses from Fuller Theological Seminary.  She worked in Youth Ministry at St. Agnes for three years, and taught RCIT here at Christ the King for twelve years and led Children's Liturgy of the Word on Sundays.  She has volunteered in the Atrium since her children started at Christ the King, and she dedicated her summers to training with the National Catechesis of the Good Shepherd program.  She will continue to earn the advanced level certifications through Catechesis of the Good Shepherd.
2017/2018 Atrium Schedule
Monday 
Second Grade 11:00 - 2:00 (2 groups, spans lunch)
Tuesday
PreKindergarten 8:00- 10:00 (2 groups before recess)
Third Grade 11:00-2:00 (2 groups, spans lunch)
Thursday
Kindergarten 8 - 11:15 (3 groups, spans recess)
Friday
First Grade 9:00 - 11:20 (2 groups, spans recess)
Parent volunteers needed and welcome.  Please email Mrs. Brender at sbrender@ctk-catholicschool.org
A note from Mrs. Brender...My primary communication regarding your child is made to your child's homeroom teacher.  I am always open to questions or discussion that helps bring the love of the Good Shepherd to your child's life, as I want to be a partner with you in your role in bringing up your child in our Catholic faith.  Please feel free to communicate with me at any time regarding your child's formation or your ability to be a part of our experience by reaching me at my school email address, sbrender@ctk-catholicschool.org.  It is a privilege when you pray with us.
Parent responsibilities for supporting your child's work in the atrium include prayer in the home, regular attendance at Mass, and regular reception of the Sacraments.  Your role in creating your domestic church supports all that we do in the atrium.
Thank you for trusting me to help you create holy families.  Have a blessed school year!
Shannon Brender
Coordinator of the Atrium