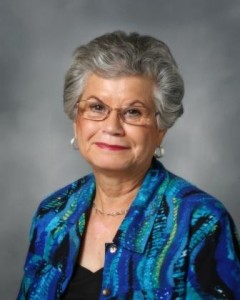 Mrs. Quiñónez has been teaching for over thirty years since graduating from Arizona State University. While at Arizona State University, she earned a Bachelor of Arts Degree in Education with a Minor in Spanish. She also earned a Master of Arts Degree in Education. Upon graduation, Mrs. Quiñónez taught in the Mesa Unified School District. She taught in grades 2-5 for seven years and then became Curriculum Specialist for twenty three years. After 30 years of teaching for Mesa Unified School District, Mrs. Quiñónez retired.
After nine years of retirement, Mrs. Quiñónez, returned to teaching at Christ the King School. "Señora" as the students affectionately call her, has been teaching Spanish to students in grades K-8 for the past six years. Students in her Spanish classes follow the Diocesan Spanish Curriculum and use appropriate workbooks and textbooks to ensure that students are well- prepared for high school Spanish. In addition to the regular curriculum, students are required to learn grade specific prayers in Spanish and participate in praying the rosary in Spanish. Spanish classes are steeped with knowledge of culture and religious celebrations, music, dance, and fun activities that reinforce the learned curriculum.
Email Señora by emailing iquinonez@ctk-catholic.org
Bienvenidos
Welcome to another school year at Christ the King. I am very happy to return to Christ the King School to begin my sixth year teaching Spanish to your children. All Spanish classes are held in St. Joe's A.  Students will be assigned seats at tables.  A tote box will contain  all materials needed for the day. (Spanish texts, workbooks, folders, a  pencil box with all of the necessary tools they will need for class, including a rosary).
Students in Kindergarten are taught through activities and songs which help to develop the required vocabulary as an introduction to Spanish.  Once again, students in first through third grade will be using workbooks to develop a working Spanish vocabulary. Grades four through eight will continue to use "Realidades", the adopted program at Christ the King School.  This program has allowed our students to learn Spanish and  prepares them for Spanish at the high school level. Realidades has a computer program which the students can access from home to complete assignments, practice their Spanish, and prepare for Spanish tests.
Students are encouraged to access the Realidades website each week using their computer password, assigned to them in class.
Please feel free to contact me if you have any questions regarding Spanish and your student's progress.
Best wishes for a wonderful school year.
Señora Quiñónez
As a part of our diocesan curriculum every grade level is assigned a prayer to be memorized in Spanish.  For grade level prayers click here.