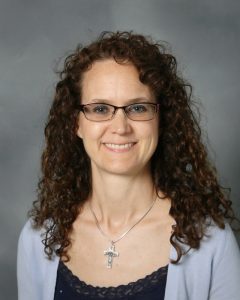 Mrs. Brender joined the staff at Christ the King Catholic School in 2015.  She has her undergraduate degree in Theology from Creighton University, and advanced Theology courses from Fuller Theological Seminary.  She worked in Youth Ministry at St. Agnes Catholic Parish for three years, taught RCIT here at Christ the King for twelve years, and has led Children's Liturgy of the Word on Sundays while attending weekly Mass with her family.  She began volunteering in the Atrium when her children started attending Christ the King, and she has dedicated her summers to training with the National Catechesis of the Good Shepherd program. She is certified in both levels 1 and 2  through Catechesis of the Good Shepherd.  
Email Mrs. Brender at sbrender@ctk-catholicschool.org
Atrium is a special opportunity children to grow in his or her relationship with Jesus, the Good Shepherd.  It supplements the homeroom religion class by giving children an opportunity to spend time reflecting on the Word of God and the Mass in a way that brings their faith experience from the head to the heart.  
Students in the atrium participate in weekly sessions where we learn about practical life which prepares us to participate more fully in the Mass; rites, articles, and gestures of the Mass and Sacraments; how to read the Bible; and geography and scripture study related to the life of Jesus and the parables He taught.  
Please feel free to communicate with me at any time regarding your child's formation or your ability to be a part of our experience by reaching me at my school email address, sbrender@ctk-catholicschool.org.  It is a privilege when you pray with us.
Download Parent Note -Atrium
Atrium Schedule
Monday – Second grade in two groups (9:00 am – 10:00 am and 10:20 am – 11:20 am), and Spring Semester Sacramental Preparation Atrium Elective (12:50 pm – 1:30 pm)
Tuesday – Pre-K in two groups (8:05 am – 9:00 am and 9:05 am – 10:00 am), and Third grade in two groups (11:00 am – 12:00 pm and 1:00 pm – 2:00 pm)
Wednesday – Fall Semester 3rd Grade Mass Preparation (7:30 am – 8:00 am), and All School Mass at 8:00 am
Thursday – Kindergarten in two groups (9:00 am – 10:00 am and 10:20 am – 11:20 am)
Friday – First grade in two groups (9:00 am – 10:00 am and 10:20 am – 11:20 am)