Student Uniforms | Dress Code
CTK Catholic school chooses uniforms for their students because: 
Encourages distinctions of character and personality instead of appearance
Places emphasis on learning, not clothing
Reduces peer pressure and social stigmas
Equalizes economic diversity
Allows for cohesive presentation as a group
Simple dress code and uniform allows teachers to enforce the code equally
Lowers long-term clothing costs
Facilitates security by identifying outsiders
Enhances school spirit
Simplifies dressing and dress code
USED UNIFORM Sales 
The Used Uniform Committee holds one large back to school sale prior to the start of school.  The committee will hold periodic sales throughout the year based on the current inventory.  These sales will be announced via newsletter, Facebook, and/or email.  If you wish to donate clean uniform items in good condition, you may drop them off in the front office any time.
Where do I purchase uniforms?
In-Person:
Anton Uniforms | 905 N Scottsdale Rd, Tempe, AZ 85288 | (480) 968-6636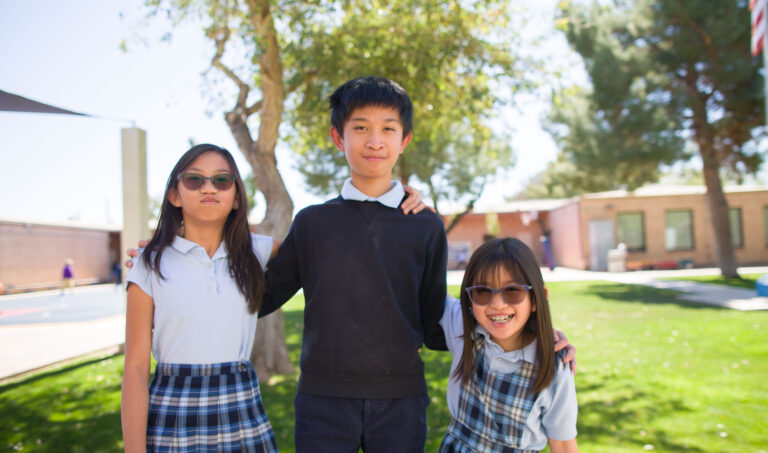 DRESS CODE – SCHOOL UNIFORMS*
The Christ the King Catholic School Dress Code supports students in their intention to demonstrate God's desire for them to be the best versions of themselves.  Catholic Schools believe that students rise to the level of their preparedness; students achieve more when they look good and are in order. Having a uniform, and a Dress Code includes considerations of cost, equality,  culture, race and the Catholic religion. This dress code precedes culture and race. The Christ the King dress code is intended to instill modesty, good grooming habits, and neatness in appearance.  It is to maintain a proper academic environment within the school, reduce superficial competitiveness so that character rather than appearance can be the focus.
Students are expected to come to school appropriately dressed at all times, with clothing that is clean and in order.
It is the parent's responsibility to make sure the child can be and is in uniform each day.
There should be no holes in, or stains on, the uniform
Students wear clothing in proportion to their body size
Tattoos, both temporary and permanent, are not allowed
Fingernails are clean and trimmed
In order to facilitate lost-and-found items so they may be returned to its rightful owner, names should be written in all clothing.